Do you consider yourself an adventurous person? If your answer is yes, the Galapagos Islands are the perfect destination for you and for those adventurous people looking for activities such as snorkeling and kayaking. Specifically, diving is an activity that most of the tourists who visit the archipelago are looking for, it is the perfect choice to discover the wonders of the underwater world and see fauna and flora that captivate with their beauty. Once underwater you feel that the ocean is yours alone.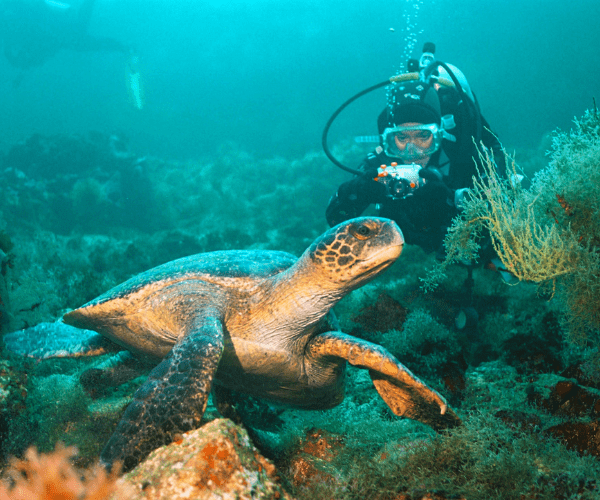 It is estimated that every year around 250.000 visitors arrive at the "Enchanted Islands" most of them coming from the United States, Germany, Switzerland, France, and other European countries.
Nowadays there are several offers of programs and cruises to do this activity in depth dedicating the visit partially or totally to diving, offering several levels of complexity and many destinations. Do you want to see which are the best destinations in Galapagos for diving? We name them below.
Leon Dormido (Kicker Rock)
Located 17 km from Puerto Baquerizo Moreno on San Cristobal Island, Leon Dormido is an iconic feature of the Galapagos Islands geology and is one of the most photographed and popular sites in the archipelago. At 18 meters high, a wonderful destination for tourists, thanks to its ideal location, you will find colonies of playful sea lions, which you can see up close when you dive. The water around Leon Dormido has a depth of about 80 meters. Tourists can practice these activities only with a guide from the national park, they can choose to dive around the rocks and inside the channel between the two rocks.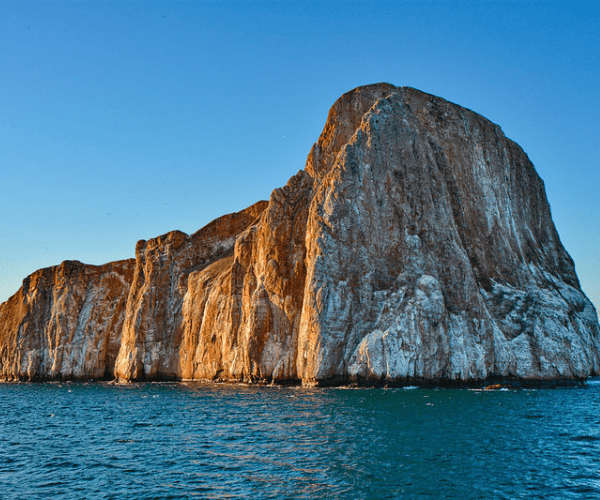 This visitor site is an international attraction that is considered unique in the world. It is an ideal place for children of all ages and adults and for divers of all levels (certified). The diversity of the site allows you to see sharks, rays, sea lions, turtles, and many seabirds like blue-footed boobies, Nazca, and pelicans that use Leon Dormido as their home.
North Seymour Channel
It is an island of volcanic origin of 28 meters of altitude located to the North of Baltra Island, it has a length of 2.1 kilometers and a width of 1.2 kilometers. The surrounding area has a sandy bottom which makes it ideal for diving.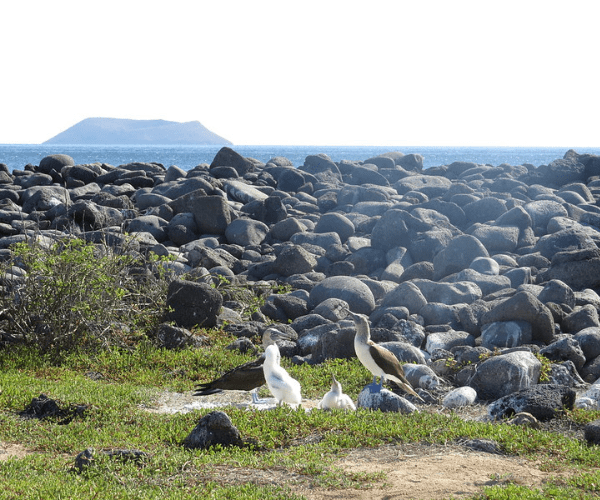 It is a good site for both beginners and experienced divers. Currents can be moderate to strong at times. Diving at the bottom of this sandy channel provides the opportunity to see white-tip sharks, sea turtles, and even the rare hammerhead shark. Schools of barracuda and snappers hide among the rocks, providing an excellent environment for divers to search for camouflaged octopuses. But the biggest attraction is the eagle rays gliding through the water, sometimes accompanied by mobulas or mantas.
Pinzón
Sometimes called Duncan Island, is surrounded by deep water and has been isolated from all other islands for millions of years. Its name is a tribute to the Pinzón brothers, who commanded the caravels La Nia and La Pinta during Christopher Columbus' explorations. Because of the 100-meter-high cliffs that surround it and the island's collapsed volcano, it is uninhabited. Scientists and researchers can occasionally land on Pinzón because it is outside the visitor restrictions of the national park.
The character of the island offers something for everyone, from beginners to experienced divers. Playful sea lions, sea turtles, and the elusive batfish can be seen. The deep descending wall is recommended for more experienced divers and is a good place to spot seahorses, rays, different species of sharks, and lobsters. In the warm season (December to May), manta rays and pods of dolphins can be seen.
Gordon Rocks
One of the best dive sites in the central islands is Gordon Rocks, which is located on the east coast of Santa Cruz Island and 40 minutes from the Itabaca Channel. Gordon Rocks has a distinctive and charming style because it was created from an ancient crater by three pinnacles rising above the sea.
It certainly combines very well an interesting marine environment with a landscape formed by volcanic formations. Divers will have the opportunity to interact with a variety of marine life, including hammerhead sharks, blacktip sharks, whitetip sharks, green sea turtles, barracudas, eagle rays, mobula rays, reef fish, and more.
Daphne Minor
Daphne Minor is located 32 km north of Santa Cruz Island and has been classified as an extinct volcano. The water currents are moderate to strong, making it ideal for both beginners and advanced divers, the water temperature is 18°c to 29°c.  One of the dive sites at Daphne Minor is a platform with a small cave about 6 meters deep where we can see white-tip sharks and sea turtles.
During the tour, you can pass through a pinnacle that is 20 meters deep, where beautifully colored fish and the giant manta ray or Manta birostris can usually be observed. There are additional dive sites at Daphne Minor, which are vertical walls that descend to a depth of over 40 meters and are covered with sessile organisms of various sizes, shapes, and colors. Would you like to experience this adventure?
---
IMPORTANT NOTICE:
If you are reading this article anywhere other than on A Luxury Travel Blog, then the chances are that this content has been stolen without permission.
Please make a note of the web address above and contact A Luxury Travel Blog to advise them of this issue.
Thank you for your help in combatting content theft.
---
Some suggestions for your diving activity
Try to go in small groups.
If you are a beginner diver prepare your trip a few days in advance to do a diving course and get your certificate.
Keep your dive certificates (PADI, OWD, AOWD, and more options) up to date.
Take motion sickness pills if you need them.
During your adventure, breathe calmly.
Never take anything from the seabed.
Make sure you wear a wetsuit and goggles.
Now you have 5 very promising options for scuba diving, in each of them, you will find different species and marine ecosystems. Every moment of the excursion will allow visitors to take away an unforgettable postcard, a unique approach to nature.
December, January, and February are considered the best months for this activity, so you have the perfect time to plan a trip to the Galapagos Islands.
Marcel Perkins is CEO at Latin Trails. Latin Trails is an incoming destination management company specialized in bespoke tours, with a focus on offering unique experiences throughout Ecuador, the Galapagos Islands, and Peru.
If you would like to be a guest blogger on A Luxury Travel Blog in order to raise your profile, please contact us.