Overview

Avrupa Minerals (TSXV:AVU) is a junior exploration and development company based in Vancouver, British Columbia. The company follows a unique prospect generator model focused on aggressive modern exploration for world-class mineral deposits in politically-stable jurisdictions across Europe, including Portugal, Kosovo and more recently, Finland.
Avrupa's hybrid prospect generator model is designed to create shareholder value by building an extensive portfolio of projects suitable for exploration to be funded by joint venture or sold to larger mining companies. The company leverages new techniques and technologies to improve exploration efforts and facilitate new discoveries. In some cases, companies following the prospect generator model have become royalty companies by allowing partners to dilute them to a valuable royalty, and Avrupa has significant exposure to this route to liquidity.
Avrupa's goal is to have one flagship, 100-percent-owned project, that it advances with its own funds instead of through partner funding. The Finland projects, some of which have historical base metal resources, are being assessed to identify flagship potential for one of the assets.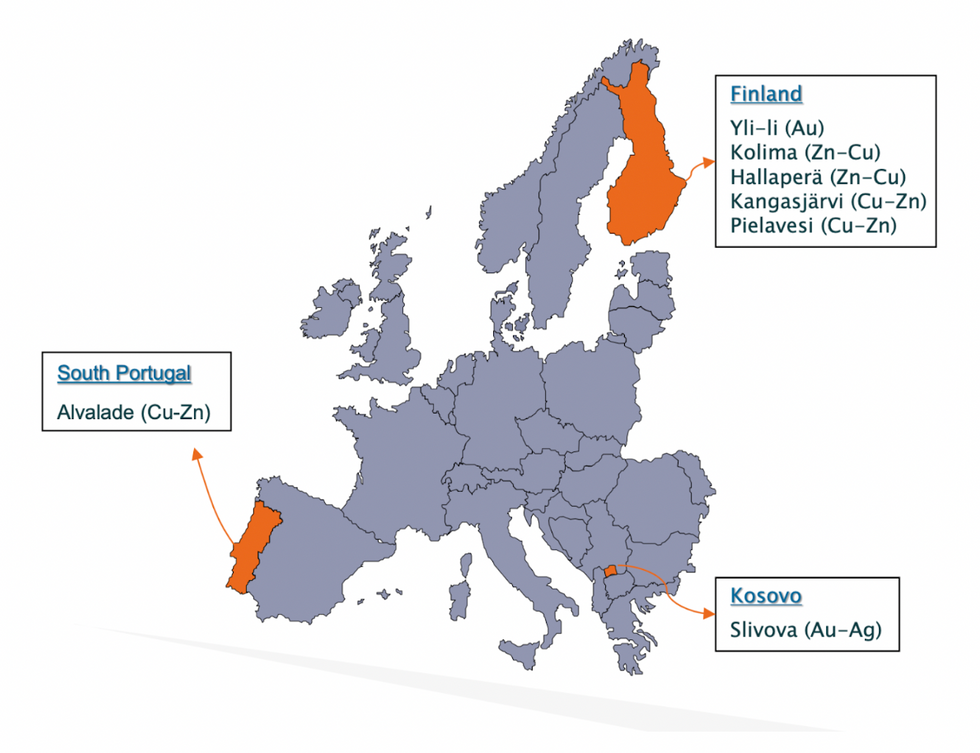 The company's projects are all located in areas with existing mines and strong geological potential for the discovery of further economic metal deposits. For example, the company's flagship Alvalade JV project is located in the Iberian Pyrite Belt (IPB) of southern Portugal, a hotspot for mining with over 80 historic mines in the Belt. Presently, there are seven active mining operations in the IPB of Portugal and Spain.
Company Highlights

Operates in mining-friendly jurisdictions that are also prospective for large deposits
Europe offers established mining districts, pro-mining policies and a variety of metals including gold, silver, copper, lead, zinc and tungsten
Seeking partners for strategic alliances and/or project-specific JVs to fund large drill programs.
Owns the Alvalade JV (VMS-copper-zinc), located in the Pyrite Belt of southern Portugal.
JV earn-in agreement with Sandfire-MATSA on the Alvalade copper project
Sandfire-MATSA currently funding drilling at the Alvalade copper-zinc project
Slivova Gold Project in the Vardar Mineral Belt in Kosovo. Discovery made in 2012. Initial gold resource estimate completed in April 2016.
Made two significant discoveries: the Slivova gold target and the Sesmarias VMS at Alvalade.
Four Finland projects acquired in 2021, some with historical copper and/or zinc resources.
Key Projects

Alvalade copper project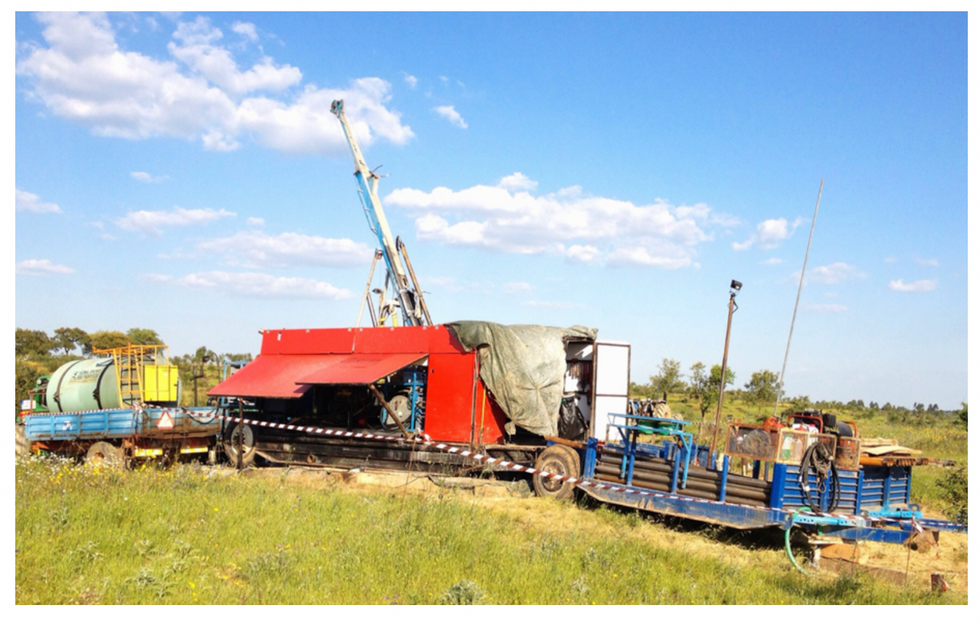 The IPB is one of the world's largest and most prolific copper-zinc-iron massive sulfide belts with mining history dating back more than 2,000 years. Three out of four of the last greenfield discoveries in the IPB are now large operating mines, including the giant Neves Corvo copper-zinc-tin massive sulfide mine. However, the area has not experienced any real exploration since the mid-1990s. In 2012, Avrupa Minerals' team began applying its expertise to the region resulting in a new discovery at Alvalade in 2014.
Avrupa Minerals' Alvalade license is located along trend to the northwest of Neves Corvo, which is currently the largest operating copper-zinc mine in Europe.
The Alvalade project involves an earn-in agreement that Avrupa (the operator) does not have to fund at present. The project was previously optioned to Antofagasta Minerals, one of the world's largest copper producers. Armed with a new geological model, Avrupa Minerals was able to successfully complete five rounds of drilling at Alvalade between April 2012 and October 2014.
The initial 2014 drill program made a significant VMS discovery in the Sesmarias West target on the Alvalade JV; the first of its kind on the Iberian Pyrite Belt in 20 years. New massive sulfide targets were also identified at Sesmarias East and at Pombal 15 kilometers south of the Sesmarias area.
Sesmarias drill results include:
SES002 – 10.85 meters @ 1.81 percent copper, 75.27 parts per million (ppm) silver, 2.57 percent lead, 4.38 percent zinc, 0.13 percent tin
SES010 – 57.85 meters @ 0.45 g/t gold, 25.1 g/t silver, 0.32 percent copper, 0.61 percent lead, 1.95 percent tin
Under a new partner, a drill program was initiated in Q4 2015. Four holes were drilled around the area of SES010 and results confirmed and extended the massive sulfide lens to a length of 300 meters with a 35- to 40-meter thickness.
In February 2019, Avrupa Minerals reported additional drill results from its own drilling program at the Sesmarias prospect. The company completed six holes totaling 2,498 meters including results from SES026, which extended the "10" lens by 300 meters to the north.
SES026 – 28.95 meters @ 0.48 percent copper, 0.77 g/t gold, 15.7 ppm silver, 0.52 percent lead and 1.31 percent zinc.
In March 2019, Avrupa Minerals released assay results for drill hole SES003, which was drilled on the Alvalade project back in 2014. The results from SES003 were not initially analyzed due to its general proximity to SES002, and were similar to those high-grade assays noted above.
SES003 – 13.65 meters @ 1.92 percent copper, 38.8 ppm silver, 1.03 percent lead, 1.91 percent zinc, 0.03 percent tin
Alvalade Joint Venture
In October 2019, Avrupa Minerals entered into a letter of intent with Minas de Aguas Teñidas, S.A.U. (MATSA) to form an earn-in exploration and exploitation joint venture on the Alvalade copper-zinc massive sulfide project. Under the terms of the agreement, the companies created a new joint venture company, PorMining, Lda., to direct future operations.
The first stage of the JV is designed to delineate a deposit at Sesmarias and the other mineralized targets within the boundaries of the Alvalade license, including the past-producing Lousal Mine, Monte de Bela Vista, and the past-producing Caveira Mine. Avrupa also defined a number of additional close-to-drill-ready target areas across the property.
In order to acquire a 51-percent interest in the new JV company, PorMining, Lda., MATSA must make a series of payments, including €1.2 million of exploration expenditures during the first year of the agreement and a further €1.2 million at MATSA's discretion during the following two years. MATSA, now called Sandfire-MATSA, also has the opportunity to earn-in to 85 percent of the project by providing a bankable feasibility study while also making all required payments to the original JV partner.
To date, MATSA has paid Avrupa approximately C$580,000 and has completed the required work commitment guarantee of approximately C$348,000 upon issuance of the new Alvalade Experimental Exploitation License (EEL) to the new JV company. The payment is refundable to MATSA pending completion of the license work commitment and approval by the Portuguese Mining Bureau (DGEG).
The PorMining geological team has made significant advances in developing a new and highly successful exploration model, based on systematic re-logging of all the Avrupa core, as well as re-logging all available historic cores held by the Portuguese geological survey. The company flew an extensive helicopter-supported VTEM geophysical survey over 75 percent of the Alvalade License, soil sampled the area between the Caveira Mine and the Lousal Mine and over the northern and central sectors at Sesmarias, and then analyzed the samples utilizing an advanced ionic leach technology to support ultra-low detection levels. The JV team detail re-mapped the Monte da Bela Vista and Caveira areas and compiled and digitized all historic data from the two old mines, Lousal and Caveira. The updated model has pushed the drilling at Sesmarias, as the drilling has improved the discovery model for the deposit.
Since the inception of the JV, the company has drilled 17 core holes at Sesmarias and one south of the old Caveira Mine, totaling approximately 9,515 meters. The previously reported lenses are now recognized to be intercepts of massive sulfide mineralization on separate limbs of a district-size fold system. Recent JV drilling at Sesmarias focused on the previously named "8" Lens and has shown a strike length of over 400 meters of continuous sulfide mineralization.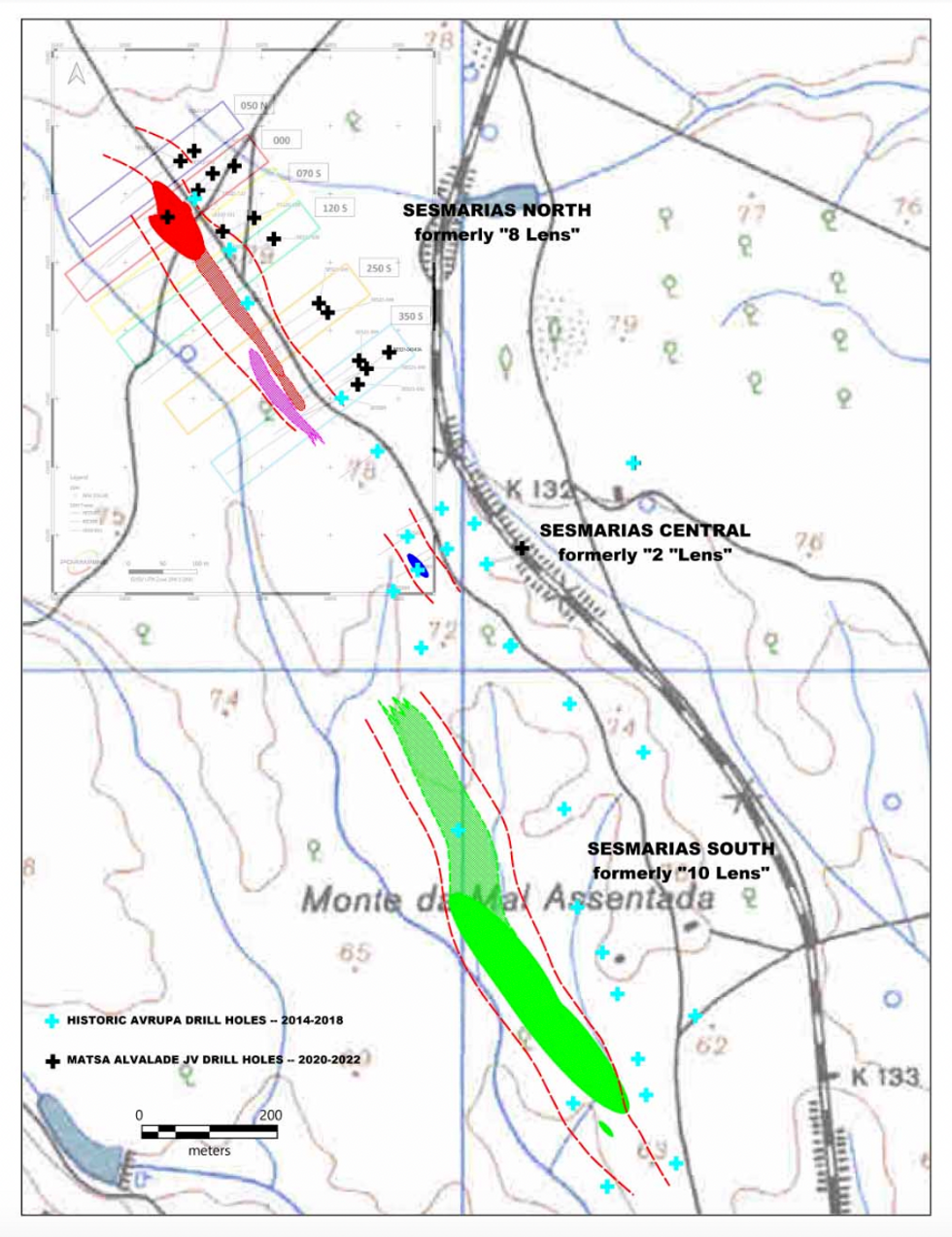 Location of Sesmarias massive sulfide mineralization
Avrupa Minerals and Minas de Aguas Teñidas have resumed drilling on the Alvalade joint venture project. The new phase of drilling initially targets anomalies located between the historic Lousal and Caveira Mines, over a strike length of approximately 11 kilometers. The first drill hole targets potential mineralization located 300 to 400 meters northwest of the last reported mineralization in the Lousal Mine. The company expects to cover 10 to 12 drill holes totaling more than 6,000 meters in the current re-drilling program.
Slivova Gold-Silver Project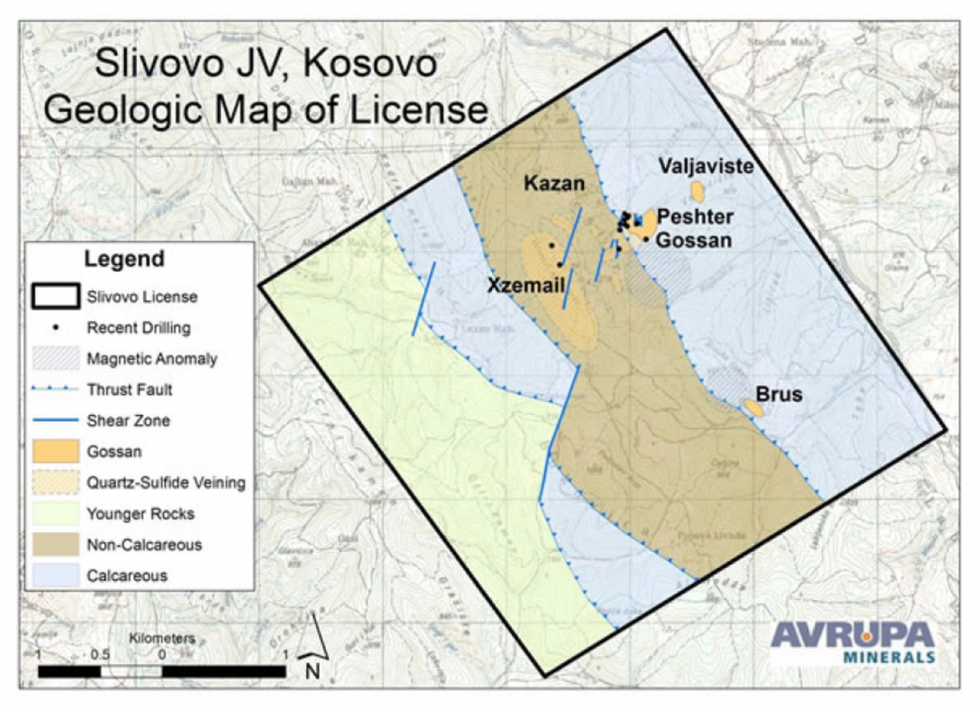 The Slivovo project in Kosovo's Vardar Mineral Trend is now wholly owned by Avrupa. Previously, the project was previously operated and funded by partner Byrnecut International Ltd. of Australia. Byrnecut completed an 85 percent earn-in requirement by spending close to €7 million for exploration on the 15.2-km2 Slivovo license, outlining a maiden gold resource estimate of 98,700 ounces of gold and 302,000 ounces of silver indicated in 640,000 metric tonnes grading 4.8 grams per ton gold, from the surface. See the following AVU news releases for further information about the NI 43-101 indicated resource (NI 43-101 Report) and results from follow-up drilling that were not included in the resource calculation (Further Slivovo Drilling Results). Byrnecut is a mining contractor and had completed a study to earn up to 85 percent of the project. However, Byrnecut decided to vacate the project, and Avrupa made an agreement with Byrnecut to repay them from future production, if any, to get 100 percent of the project back.
The project has been dormant since 2018 when Byrnecut left. The original license expired in 2019, and Avrupa re-applied at the same time for a larger area covering Slivovo and the surrounding prospectable lands. The new license, renamed Slivova, was finally issued in June 2022.
In September 2022, Avrupa entered into an option agreement with Western Tethyan Resources (WTR) for the latter to earn-in up to 85 percent of the Slivova Gold Project by funding and performing certain work programs to potentially advance the Slivova Project to a mining solution. The agreement is subject to WTR completing its due diligence review of the project on or before March 1, 2023.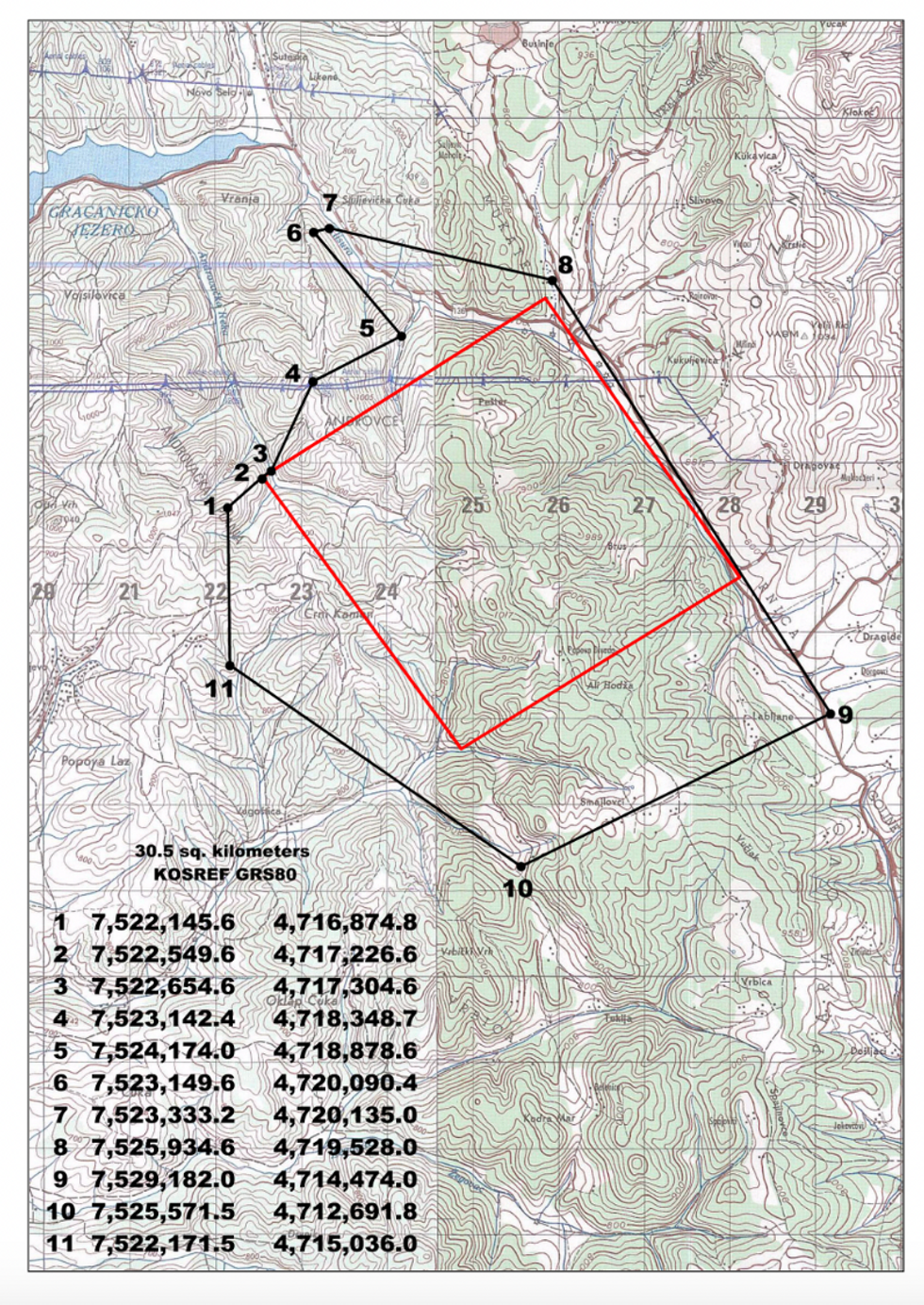 Project History
In 2011, wide-scale geological mapping of the Peshter gossan zone on the Slivovo property led to the discovery of the potential for the gold-bearing, massive sulfide mineralization common in the Vardar Mineral Trend.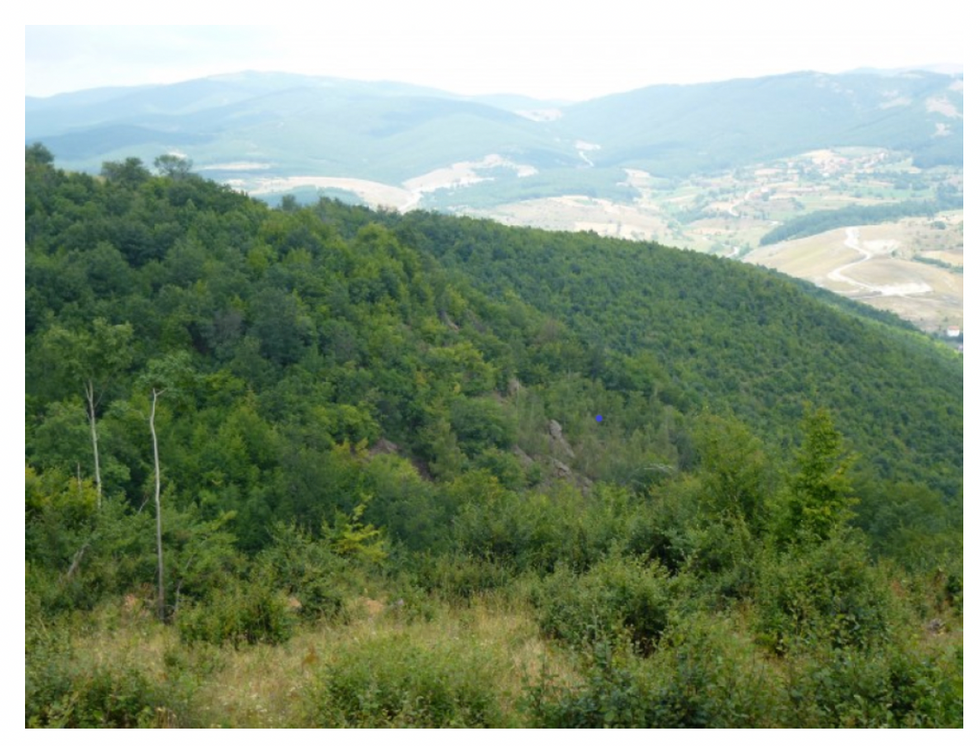 In 2014 under the JV with Byrnecut, Avrupa Minerals stepped up the exploration activity at Slivovo with an aggressive exploration program that has included trenching, first-pass and follow-up geological mapping, sampling and drill targeting. Phase One drilling totaled 1,002 meters and was completed in Q4 2014.
Highlights of this first drill campaign include:
126.5 meters @ 6.2 g/t gold, 15.0 g/t silver, 0.092 percent copper, 0.16 percent lead, and 0.45 percent zinc in SLV004
12 meters @ 12.2 g/t gold, including 7.4 meters @ 19.3 g/t gold in SLV005
8 meters @ 1.25 g/t gold and 3.4 meters @ 3.12 g/t gold in SLV006
Phase Two drilling totaled 1,025 meters and was completed in Q2 2015 and included 30 meters @ 6.92 g/t gold and 16.20 g/t silver in SLV011.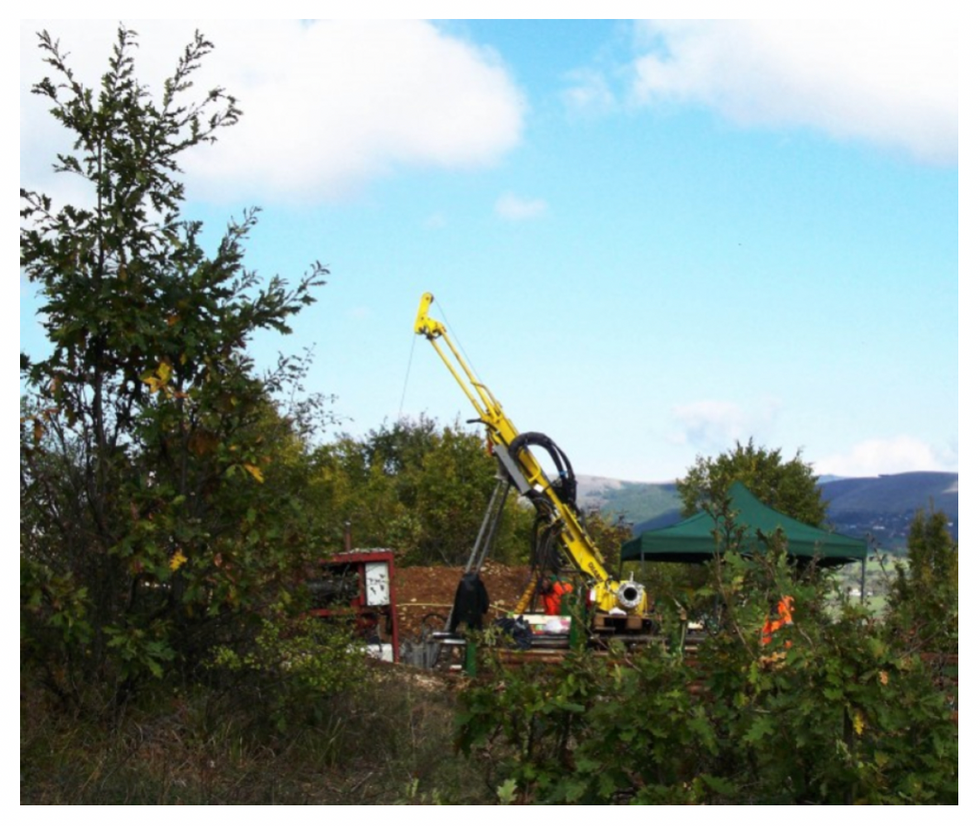 Phase Three drilling totaled 46 holes and 5,040 meters. Results released by Avrupa Minerals include:
57.35 meters @ 2.09 g/t gold and 15.94 g/t arsenic in SLV014
125 meters of 6.91 g/t gold and 19.19 g/t silver in SLV018
SLV025 intercepts 24 meters of 11.59 g/t gold, 9.26 g/t silver
42 meters @ 9.20 g/t gold and 9.57 g/t silver in SLV033
74 meters @ 6.02 g/t gold and 20.23 g/t silver in SLV037
Byrnecut completed a large program in 2017 to follow up on a section of mineralization that hit a new extension of gold in three deeper holes that had similar grades to the average of the resource estimate at 4.8 g/t gold. This data is not currently in the resource estimate.
With issuance of the new 7-year exploration license, the Slivovo Project enters a new phase, hopefully culminating in a mining decision. The government of Kosovo has requested that the project be called "Slivova," with respect to the main local language.
Finland Copper/Zinc and Gold Projects
In late 2021, Avrupa made an agreement with the sole owner of Akkerman Finland Oy AFOy) to acquire four projects in Finland. Highlights of the assets include:
Three base metal property reservations cover approx. 600 km2 in the Vihanti–Pyhäsalmi VMS Belt, central Finland
65 km south of Pyhäsalmi base metal mine and flotation plant
Two properties contain small historic copper/zinc resource estimates (see below)
One under-explored gold property reservation located in the Oijärvi Greenstone Belt in north-central Finland included in property package
Binding Letter Agreement signed with private Finnish company
Avrupa to pay 3 million common shares, €165,000, and fund earn-in exploration expenditures of €400,000 over two years to earn 100 percent
In 2022, Avrupa Minerals submitted a third exploration license application in the Pyhäsalmi Mining District in central Finland. The Hallaperä exploration license application is located near the town of Kiuruvesi, about 20 kilometers east of the Pyhäsalmi Mine and processing plant. The application area covers known copper and zinc sulfide mineralization discovered by Outokumpu Oy in 1967 and partially outlined by drilling of 42 holes during the period 1967 to 1990. The known mineralization extends for more than 1,000 meters, and is open at depth below 150 meters.
The Kolima Property
The 187-km2 Kolima Reservation covers a target zone consisting of a thick layer of mineralized distal-type volcanics containing thin beds and layers of zinc-rich massive sulfide mineralization in some areas. The Geological Survey of Finland (GTK) discovered and explored the area in the period from 1956 to 1983. The GTK found zinc mineralization in an area two kilometers long and 200 to 400 meters wide within strongly altered metasediments and fine-grained volcanic rocks. GTK drilled 70 holes and detected widespread polymetallic sulfide mineralization occurring as fine disseminations and thin layers of semi-massive sulfides. Generally, it seems that the currently-known mineralization represents distal-style metals' deposition within a larger VMS system that has not yet been discovered. Numerous mineralized boulders containing anomalous gold and copper are present around the site.
AFOy completed a helicopter-supported SkyTEM geophysical survey over the mineralized area of the reservation. Preliminary analysis of the data by AFOy did not suggest any obvious targeting. However, recently-completed detailed review of the data by AFOy and AVU outlined subtle anomalism over southern extension of the known volcanics-hosted mineral trend and also outlined a deeper (175 meters), strong geophysical target in a trend of the volcanic rocks parallel to those that host the known zinc mineralization. There is no reported previous exploration along this second trend, located a few kilometers west of the known zinc showings.
AFOy submitted a mineral exploration license application in January 2022 for the Kolima Exploration License. Given standard timing of fulfillment of all regulations by the Finnish mining authority, Tukes, we expect issuance of the new exploration license to come 12-14 months after submission of the application. In the meantime, there are a number of non-invasive activities to complete that will greatly assist in drill targeting, in anticipation of receiving the license in early 2023. The following figure shows the area of license application covering two SkyTEM anomalies, but also keeping out of the most environmentally and socially sensitive areas.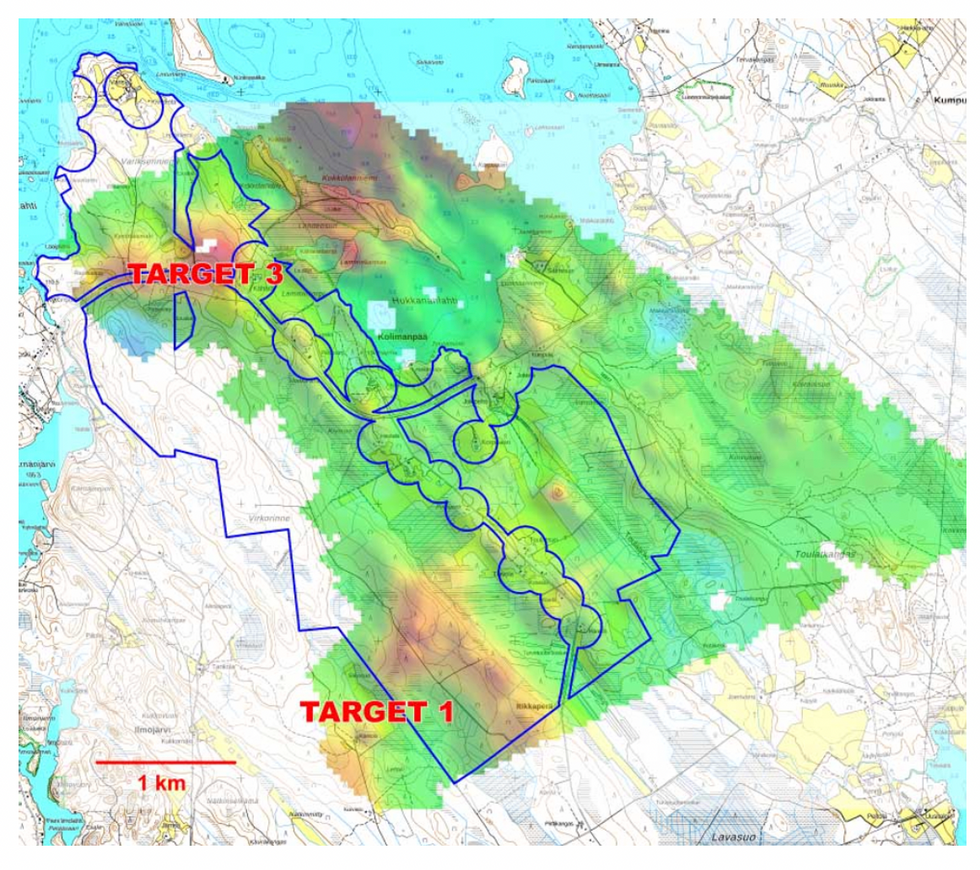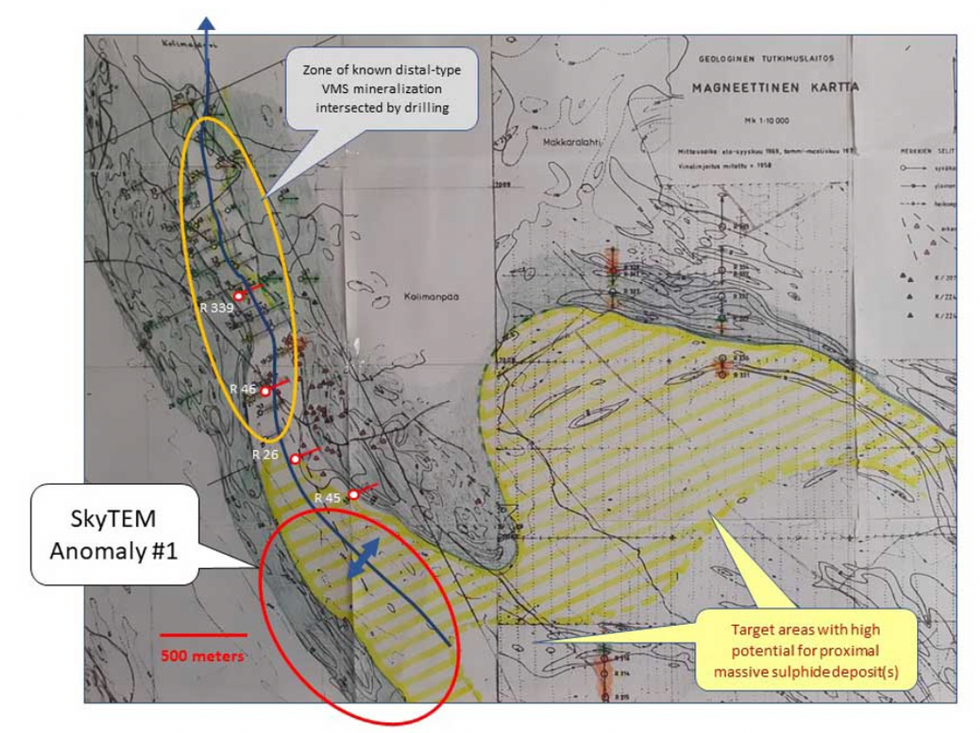 Historic geophysical map with geology, drill hole locations, main SkyTEM conductors, location of the Kärnä Anticline (in blue), and overall permissive target area (yellow bands). Base map from GTK work from late-1950's through mid-1980's. The work completed, to date, including re-logging of representative core, widespread core sampling, and various levels of geophysics, strongly suggests that the known mineralization on the Kolima property is actually distal mineralization in a large VMS system. Drilling targets lie along the 5-kilometer strike length of the Kärnä Anticline, highlighted in blue, and aim to discover the whereabouts of the proximal and central portions of the VMS system, and presumably extensive zinc- and copper-bearing massive sulfides.
In 2022, the company contracted with the Finland Geological Survey (GTK) to re-log and sample four representative, historic drill holes from the Kolima exploration projects carried out from the mid-1950's to the early-1980's by GTK. GTK completed re-logging of the four drillholes, totaling 743.55 meters and situated along a 2-kilometer strike length.
The Kangasjärvi Property
The 203-km2 reservation covers the Kangasjärvi deposit, a satellite deposit of the Pyhäsalmi mine, located about 25 kilometers to the north of the site. The massive sulfide was exposed at the surface, and Outokumpu mined 1 to 9 percent zinc material from the Kangasjärvi open pit in 1984 to 1985 down to less than 100 meters from the surface. Exploration drilling by Outokumpu intersected massive sulfides down to 250 meters depth beneath the pit but did not attempt deeper drilling, leaving the deposit open at depth, as well as along strike.
In 1983, GTK estimated a small historic, non-NI 43-101 compliant resource in two separate lenses: 1) 393,000 tonnes of 5.3 percent zinc, and 2) 159,960 tonnes of 6.0 percent zinc. Later Outokumpu reported an estimated mineral resource of approximately 300,000 tonnes of 5.4 percent zinc. Records in 1987 indicate that Outokumpu mined about 86,000 tonnes of 5.12 percent zinc. There is also reported anomalous copper, silver, and gold in the deposits.
Note again that both resource estimates are historic in nature, pre-dating NI 43-101, and the company is not treating them as current resources. A qualified person, as such term is defined in NI 43-101, has not completed sufficient work to confirm the estimates as current mineral resources under NI 43-101, and therefore they cannot be considered reliable and are presented here merely to show the potential of the projects. Further efforts to confirm the presence of potential mineral resources are planned for the initial exploration period and will commence once the definitive agreement is completed.
In addition to the Kangasjärvi deposit, there are at least three other mineral occurrences within the reservation area. Little work of any sort has been completed anywhere on the reservation for at least 20 years, even though there are historic drill holes throughout the district.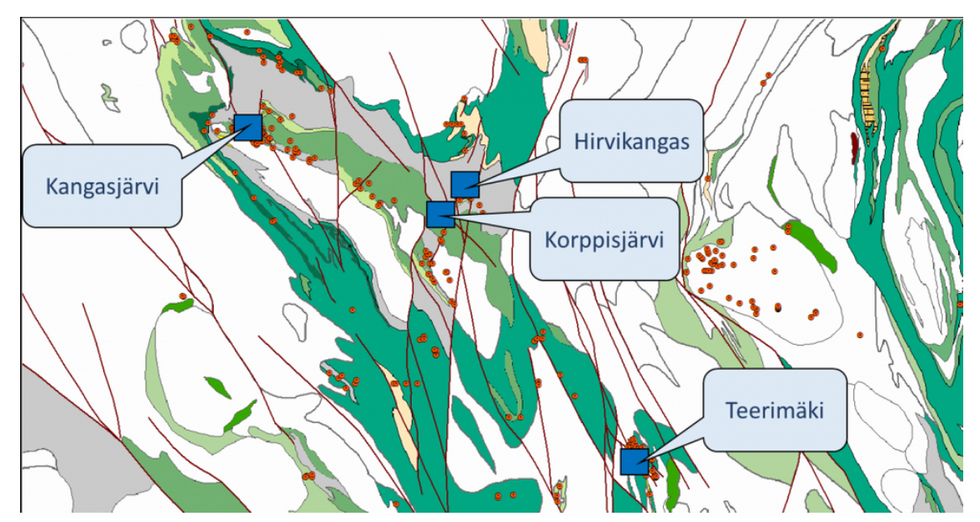 Figure 5. Location of known mineral targets and deposits within the Kangasjärvi reservation area.
AFOy also completed helicopter-supported SkyTEM geophysical work over known significant areas within the Pielavesi and Kangasjärvi reservations. AFOy and AVU continue to review the results from these surveys. Further information will be disseminated as we obtain a better understanding of the initial targeting data.
AFOy purchased an extensive drillhole database covering the Kangasjärvi and satellite deposits, and is now in the process of properly compiling and reviewing the data. The company recently completed a drone-based magnetics survey in the deposit area, but results have not yet been fully-reviewed. Avrupa completed and submitted an application for a new exploration permit to cover Kangasjärvi zinc mine, potential extensions, and new targets along strike of the favorable mineral-hosting horizon. The application spans approximately 18.4 square kilometers of favorable terrane for copper- and zinc-bearing volcanogenic massive sulfide deposits
The Yli-li Gold Property
The 332 km2 Yli-li gold reservation covers 30 kilometers strike length of the southern extension of the Oijärvi greenstone belt and major shear zone. Currently, Gold Line Resources Ltd. operates the Oijärvi gold project where they plan to drill over 4,000 meters in a step-out drilling program to expand the known zones of gold mineralization and delineate new targets in the vicinity of the mineralization. In 2013, Agnico Eagle reported an inferred mineral resource estimate at Kylmäkangas of 1.9 MT at 4 g/t Au and 31 g/t Ag, containing approximately 250,000 ounces of gold and 1.9 million ounces of silver.
Note again that this resource estimate is historic in nature and was reported by a third party. The Company is not treating the estimate as a current resource. A qualified person, as such term is defined in NI 43-101 and related to Avrupa Minerals Ltd., has not completed sufficient work to confirm the estimates as current mineral resources under NI 43-101, and therefore they cannot be considered reliable from the company standpoint. The company cannot confirm the estimates under any circumstances and merely uses the information to suggest potential exploration possibilities on the Yli-li property.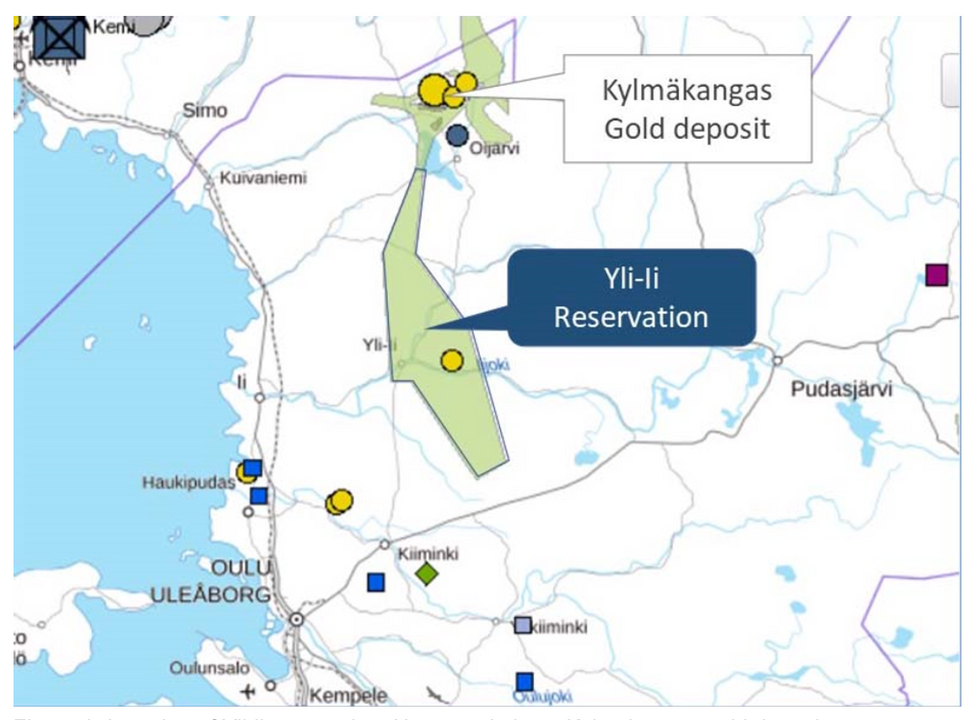 Figure 6. Location of Yli-li reservation. Note proximity to Kylmäkangas gold deposit.
GTK first explored the southern extension of the Oijärvi shear zone, covered by the reservation, from 2001 to 2014. Initial studies turned up gold-in-till anomalies over intensely sheared and altered rocks. Limited drilling resulted in one intercept of 3 g/t gold over two meters at the Kupsusselkä prospect. Given these promising early-stage results, there is clearly a need for a wider-scale systematic exploration program to determine the best targets within the area.
The Pielavesi Reservation
Historic exploration within the Pielavesi Reservation area by the Geological Survey of Finland (GTK) and Outokumpu shows that the Paloniemi-Säviä-Leväniemi Belt offers promising exploration potential. The Pielavesi reservation covers approximately 213 km2 and has widespread hydrothermal alteration of felsic volcanics which can be traced over 10 kilometers.
Previous operators identified the presence of at least four individual centers of mineralization, including one with clear evidence of a stockwork feeder zone accompanied by massive sulfide deposition containing copper, zinc, and gold. Despite many years of previous exploration and a large number of holes drilled, known centers of mineralization have not been drilled off and remain open at depth and along strike in both directions. No systematic exploration of the area has been completed in over 30 years.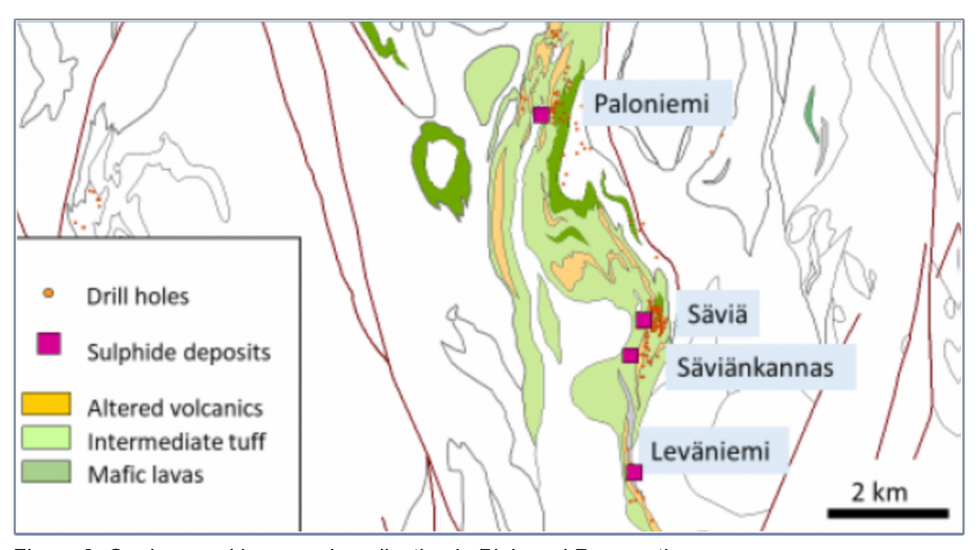 Figure 3. Geology and known mineralization in Pielavesi Reservation
Previous operators completed two historic, non-NI 43-101 compliant, resource estimates at the Säviä prospect within the limits of the Pielavesi Property. The initial review, reported in 1968, and based on 62 drill holes at 50-meter spacings, estimated a copper-rich deposit of 4 million tonnes grading 1.1 percent copper and a zinc-rich deposit of 1 million tonnes grading 2 percent zinc. And, in fact, a number of nearby mineralized holes were not included in the resource estimate, one of which assayed 0.98 percent copper over 70.5 meters.
In 1986, Outokumpu estimated a resource at Säviä of 1.8 tonnes grading 1.52 percent copper.
Note that both resource estimates are historic in nature, pre-dating NI 43-101, and the company is not treating them as current resources. A qualified person, as such term is defined in NI 43-101, has not completed sufficient work to confirm the estimates as current mineral resources under NI 43-101, and therefore they cannot be considered reliable and are presented here merely to show the potential of the projects. Further efforts to confirm the presence of potential mineral resources are planned for the initial exploration period and will commence once the Definitive Agreement is completed.
Management Team

Paul Kuhn – CEO and Director
Paul Kuhn joined Avrupa Minerals in July 2010 after working with Metallica Mining in Oslo, Norway in August 2008. He has more than 40 years of experience in the minerals exploration business in North America, Central Asia and Europe. He earned an AB degree from Dartmouth College, US, in 1978, and an M.S. degree from the University of Montana, US, in 1983. Kuhn has worked in a variety of geological terrains, exploring for gold, silver, base metals, uranium, and phosphate deposits, and has spent time as a production geologist in the deep underground mines of the Coeur d'Alene Mining District, historically one of the world's most important silver districts. Kuhn has managed successful exploration programs in the US, Turkey, and Western Europe. He was involved in a number of base and precious metal discoveries in Turkey, including the Taç and Çorak polymetallic deposits, the Cerattepe Cu-Au volcanogenic massive sulfide deposit, the Altıntepe epithermal Au deposit (being mined by Bahar Madencilik), the Diyadın/Mollakarra Carlin-style Au deposit (operated by Koza Altın), and the Karakartal porphyry Cu-Au deposit (being developed by SSR Mining). Kuhn was also involved with the original mapping, description, and drill targeting of the Çöpler porphyry Au deposit (presently being mined by SSR Mining).
Mark T. Brown – Director
Mark Brown is the president of Pacific Opportunity Capital Ltd., headquartered in Vancouver BC. Pacific Opportunity is a financial consulting and merchant banking firm active in venture capital markets in North America. Brown has assisted in the successful establishment of several private and public companies. In the mining and mineral exploration sector, Brown has played key roles in the success of Rare Element Resources Ltd., Pitchstone Exploration Ltd., Animas Resources Ltd., and other exploration companies. His corporate activities include merger and acquisition transactions, financing, strategic corporate planning, and corporate development. Prior to joining Pacific Opportunity, Brown managed the financial departments of two TSE 300 companies, Miramar Mining Corp. and Eldorado Gold Ltd. Brown has a Bachelor of Commerce from the University of British Columbia and qualified as a Chartered Professional Accountant in 1993, while working with PricewaterhouseCoopers in Vancouver.
Paul Dircksen – Director
Paul Dircksen has more than 35 years of experience in the mining and exploration industry, serving in executive, managerial, and technical roles at several companies. He has a strong technical background, serving as a team member on ten gold discoveries, seven of which later became operating mines. Dircksen has held senior management positions with a number of resource groups including Orvana Minerals, Lacana Gold, The Cordex Group, Brett Resources, and the Bravo Venture Group. He holds an MS in geology from the Mackay School of Mines at the University of Nevada.
Dircksen is currently the president and CEO of Timberline Resources Corporation which is listed on the NYSE Market Exchange under the symbol "TLR" and on the TSX Venture Exchange under the symbol "TBR". Timberline holds a 50-percent carried interest ownership stake in the Butte Highlands Joint Venture in Montana, USA. Timberline Resources focuses on exploration and development of precious metal deposits in the western United States.
Frank Högel – Director
Frank Högel currently serves as the CEO of Peter Beck Performance Funds GbR and sits on the advisory board of Concept Capital Management. Concept Capital is an asset management company focused on evaluating and investing in Canadian resource companies through equity investments, convertible bonds and gold, silver and copper off-take agreements. Mr. Högel has an MBA with a focus on financial management, banking, and international business and management from the University of Nürtingen, Germany. He also sits on the board of several other public companies listed on the TSX Venture Exchange.
Paul Nelles – Director
Paul Nelles graduated from TU Berlin in 1972 with a degree in mining engineering and obtained a PhD in mineral processing in 1975. He worked internationally in base metal mining for Metallgesellschaft between 1975 and 1991, at which stage he held the position of general manager project development. In 1991 he was employed as technical director and appointed to the executive board of DESTAG, a leading dimension stone producer and worldwide trader. He was subsequently appointed CEO of the company. Dr. Nelles joined Normandy LaSource in France, as executive director for gold production and industrial minerals in 1997. In 2002 he was appointed as the "Trepca Manager" by the United Nations Mission in Kosovo and was promoted to deputy managing director of the Kosovo Trust Agency in 2004, in charge of all major publicly owned enterprises. Since 2006 he has worked as an independent mining industry advisor and has been instrumental in the formation of Innomatik Exploration Kosovo LLC, a wholly-owned subsidiary of Avrupa Minerals.
Winnie Wong – CFO
Winnie Wong received a bachelor of commerce degree (honours) from Queen's University in 1996 and is a chartered professional accountant. She is currently vice-resident of Pacific Opportunity Capital Ltd. Prior to joining Pacific Opportunity Capital Ltd., Wong was the controller of Pivotal Corporation, a company providing software, services, and support to a variety of businesses. Between 1996 and 1999, Wong worked with Deloitte & Touche, Chartered Accountants.