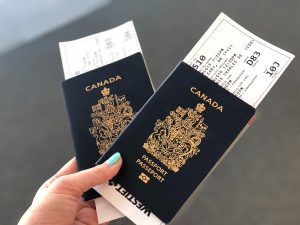 The Canadian passport is one of the world's most powerful and respected travel documents. Some people use it to reconnect with family and friends, to explore the country, and to have fun. Others see it as the pinnacle of their immigration journey, as they become Canadian citizens and become part of a varied and inclusive country that cherishes democracy, freedom, and human rights.
The new passport has been completely updated from cover to cover with cutting-edge security features and fresh artwork, ensuring that it remains one of the most secure and widely accepted travel documents in the world for all Canadians.
With iconic photos of Canada's natural elegance across the four seasons, the new passport honors Canada's heritage and identity. It also has a new cover design with a maple leaf outline—the first big update in decades.
What New Features Does the Canadian Passport Have?
For the new passport, IRCC has
redesigned the cover
modified visa pages to highlight Canada's natural beauty
included images of Canadians, landscapes, and wildlife that can only be seen in UV light
The new passport has cutting-edge security features designed to protect Canadians' identities, such as a polycarbonate data page—a technology similar to that used in driver's licenses in Canada. Personal information on passports will now be laser engraved rather than printed with ink, making the data page more durable and resistant to manipulation and forgery. A Kinegram above the primary photo, a personalized see-through window with a secondary image of the passport bearer, a changing laser image, and a temperature-sensitive ink feature are among the other features.
When Does the New Canadian Passport Come Out?
The redesigned passport will be available later this summer of 2023. Until then, the current passport remains secure and dependable, thus Canadians with valid passports will just need to renew them when their normal renewal period approaches. More information about the rollout will be provided at a later date.
Do You Need a Canadian Passport?
If so, Contact VisaPlace today. All our cases are handled by competent and experienced immigration professionals who are affiliated with VisaPlace. These professionals consist of lawyers, licensed paralegals, and consultants who work for Niren and Associates an award-winning immigration firm that adheres to the highest standards of client service.
Ready for the next step? Book your 1 on 1 consultation now or call us at 1-888-317-5770.
Have a Question related to your Immigration Needs?
Click here to fill out the FREE Immigration Assessment form below and get a response within 24 hours to see if you're eligible.
The assessment form should take approximately 5-7 minutes to complete. We will get back to you within one business day to let you know if we are able to help.